About Us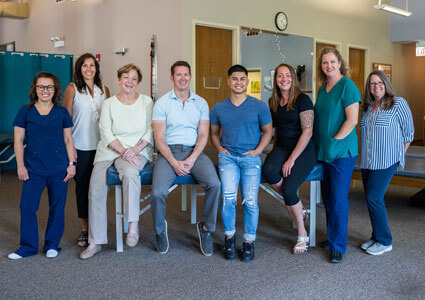 Advanced Physical Medicine & Rehabilitation has been serving the Hoffman Estates community since 2001. Dr. Cameron Clark interned here in 2007. He then also met his wife, who worked in the clinic at the time. Dr. Clark served as an associate doctor for five years at the practice. He then purchased it in 2014.
Providing Patient-Centered Care
Our practice is a medical facility, but not like others. What sets us apart is our dedication to providing you with all-inclusive patient-centered care. That care is customized and tailored to target your specific conditions and leading to positive results. We have a 6,000-square-foot facility and many tools at our disposal to get you better.
Our Approach
We take a team-based approach to every one of our patients. What does that mean?
Treating You Like Family
Dr. Clark believes in the golden rule—treating others as he would want to be treated. "I provide patients with the information and care that I would want for myself or a family member. We don't do anything out of a self-serving interest but instead because it's the right thing to do for our patients," he says.
MEET DR. CLARK »
A Patient Success Story
One of our patients came in after herniating a disc in his neck. He jumped out of bed too quickly to turn off the alarm clock. He went to two surgeons and they both wanted him to have surgery. The man had neurologic deficits that went down his arm but he didn't want to have surgery. So he came to us and did six months of rehab. He never needed the surgery. The patient was so grateful for the results he got that he ended up painting our office and didn't charge us!
Book an Appointment
Contact our practice today to schedule a same-day or Saturday appointment. We accept insurance and Medicare.

About Advanced Physical Medicine & Rehabilitation | (847) 839-8888