Meet Dr. Cameron Clark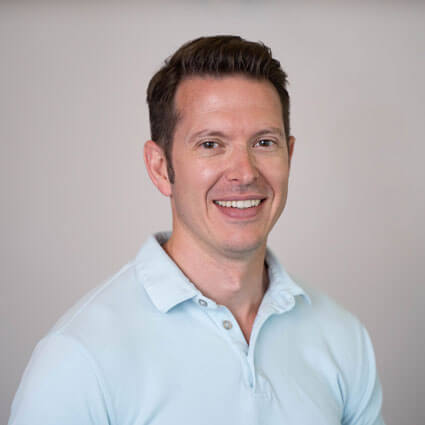 Dr. Clark grew up in nearby Crystal Lake, Illinois, where his interest in sports medicine and orthopedics started. Growing up, he was active in multiple sports. These included baseball, football, golf and track. Throughout high school, his passion for personal fitness began to grow as he started to train for different sports.
His undergraduate studies led him to study sports medicine at Carroll College. While there, he traveled with various sports teams. He ended up working for the Milwaukee Wave, a professional indoor soccer team. "A couple of players were going to see a chiropractor off-site. They went because they were feeling good and it was helping them a lot."
Dr. Clark was surprised that the chiropractor worked in conjunction with an orthopedic surgeon. The chiropractor also had a PT in the office. "It was an eye-opening experience for me. That's because I had a typical view of chiropractors as being 'docs in a box.'"
Obtaining a Chiropractic Education & More
Dr. Clark knew that he wanted to continue his education. "I didn't want to go to medical school because I didn't want to write prescriptions." He also didn't see himself going to PT school because he didn't want to be under the orders of another doctor.
"Chiropractic was a good fit for me. I wanted to help people, using techniques that didn't require pharmaceuticals." He attended the National University of Health Sciences. There, he received his second bachelor's degree in human biology and his Doctor of Chiropractic.
Since graduating, Dr. Clark has also become certified in acupuncture and the Kinesio-Taping method. Kinesio-Taping has become extremely popular among elite athletes due to its effectiveness and comfort. Dr. Clark is also an athletic trainer.
Finding Fulfillment Providing Natural Health Care
For Dr. Clark, it's highly gratifying to help people relatively quickly without the use of drugs, and hear that they feel so much better.
People think of me like going to see the orthopedist but with no needle or scalpel.
Outside the Office
When he's not at work, Dr. Clark enjoys spending time with his wife and their two young daughters. He also is passionate about working out and belongs to two different CrossFit gyms. Dr. Clark also enjoys golfing or fishing with his dad. Dr. Clark likes to camp with his family when time permits. He, his wife and their girls also spend time with their extended families on the weekends.
Contact us today to schedule a convenient appointment with Dr. Clark!

Dr. Cameron Clark | (847) 839-8888